New Meyer Sound System

L.A.'s Famous Shrine Auditorium Finds Finest Fit with Meyer Sound MICA
In a city with no shortage of famous landmarks, Los Angeles' legendary Shrine Auditorium still glitters like a star. A singular and striking historical monument built in the 1920s, the 6,300-seat hall boasts the largest stage in North America. The Shrine and its attached 54,000-square-foot expo center have, for decades, hosted an amazing roster of events – award shows like the Grammys, American Music Awards, Emmys and Oscars , as well as theatre, ballet, and concerts from to Sinatra to Springsteen.
A recent $15 million renovation did wonders for the theatre's classic architecture and beauty, while adding state-of-the-art audio and production systems. However, the shape of the Shrine is atypical, making the sound system requirements similarly unusual, according to the Shrine General Manager Duke Collister. In the end, the Shrine determined that Meyer Sound's more compact M Series models, MICA and MID, provided the perfect fit for the room.
"This is a very wide room, with a stage measuring 105 feet at the proscenium", he notes. "We seat over 6,000 people, comparable to the Greek Theatre and Gibson Amphitheatre, formerly known as the Universal Amphitheatre (both located in the Los Angeles area). But whereas, in those venues the throw to the rear seats is around 600 feet, here it's only 209 feet. Where a typical line array is fine for most venues, it's simply too much intensity for this room."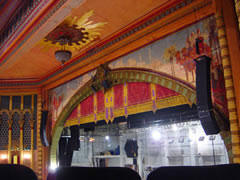 Collister worked with audio consultants Jack Haffamier of Complete Production Rentals and Joe Hesse of MSS Audio Services to configure a system centered on Meyer Sound's MICA compact high-power curvilinear array loudspeaker. Two arrays of 16 MICA cabinets, each are angled inward slightly from the sides of the proscenium, augmented by a pair of center arrays of 10 M1D ultra-compact curvilinear array loudspeakers each. Eight M1D cabinets are mounted under the stage lip for front fill, and 18 more M1D units provide ample coverage under the balcony. Eight 700-HP ultrahigh-power subwoofers handle low frequencies, while two Galileo loudspeaker management systems provide processing and drive for the system.
"Larger line arrays are geared to go a long distance", Collister explains. "We alays had to pull it back with larger systems, to keep from killing them at the back wall, But MICA is perfect for a room like this one. It's powerful and musical without being overpowering."
"We've got better coverage with less volume", observes Haffamier. "Volume is always a critical issue with TV productions."
With as wide an array of events as the Shrine Hosts, flexibility is a primary requirement for the audio system. "A lot of the award shows build out almost 20 feet in front of the proscenium", Haffamier explains. "That calls for a much different configuration than a rock show". Being all self-powered loudspeakers, the system can be quickly moved as needed and reconfigure immediately using the Galileo systems. "We can switch from 16 MICAs per side to 9 per side with three delays to cover the upper balcony. With the Galileos, it's easy to reconfigure the system to accommodate different types of shows. It's very versatile and saves us a lot of time in the long run."
Sightlines and space usage were also considerations. "Some of the balcony areas are used for camera positions, and the PA needs to be out of the way", Haffamier continues. "The MICA's self-powered aspect makes a real difference as well. For as large as this facility is, there are always space issues. MICA sounds better and takes up less space."
With its previous 1960s-era system, the Shrine had cultivated a decades-long reputation as having a sound system that did not match the beauty of the venue itself, amking the new audio system that much more welcome. "MICA has made a tremendous difference for the Shrine", remarks Hesse. "There are so many great halls in L.A., and so many music industry people, that it's not easy to do something that really impresses (those professionals). But the response to MICA has been overwhelmingly positive".
Hesse also gives the system high marks for its low maintenance. "This is a system that needs no pampering or special attention to sound good. I've used the MSL-4 for years and was always impressed, but MICA is a whole new level".
Collister epitomizes "the happy customer" as he sums thigns up by saying simply "I haven't heard a building covered better. Every seat has consistent sound. I'm sold on MICA. I'd never look anywhere else".
P.A. Quotes:
"We've got better coverage with less volume." –Jack Haffamier, Complete Production Rentals
"MICA is perfect for a room like this one. It's powerful and musical without being overpowering." –Duke Collister, General Manager, Shrine Auditorium
"With the Galileos, it's easy to reconfigure the system to accommodate different types of shows. It's very versatile and saves us a lot of time in the long run." –Jack Haffamier, Complete Production Rentals
"There are so many great halls in L.A., and so many music industry people, that it's not easy to do something that really impresses (those professionals). But the response to MICA has been overwhelmingly positive." –Joe Hesse, MSS Audio Services
"MICA is a whole new level." –Joe Hesse, MSS Audio Services