February 2005 issue of "Live Sound International"

In the science fiction adventure book To the Stars by L. Ron Hubbard, central character Alan Corday is shanghaied into a situation fraught with dangers and challenges, and he learn to rely and trust in those around him.
It turns out that the book and its central characters are the inspiration for the first tour by Chick Corea and the Elektric Band (CCEB) in over a decade. The lineup included Corea on keyboards, as well as band originals John Patitucci on bass, Dave Weckl on drums, Eric Marienthal on saxophone and Frank Gambale on guitar, working together to create a unique jazz-infused musical experience.
BY E.VICTOR BROWN
Two pro sound veterans have earned the trust of nine-time Grammy Award winner Corea and his mates: long-time Production Manager Joe Hesse and Front-Of-House/Studio Engineer Bernie Kirsh. Hesse has worked with Corea since the inception of the Elektric Band in 1985, while Corea and Kirsh have collaborated from the early '70s to present.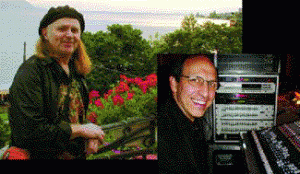 "The whole idea is to create an environment where they don't have to think about their instruments or technology, and everything becomes somewhat of an extension of them," explains Hesse. "My role is getting the right crew and gear together for that task and acting as the shock absorber so that can happen every night."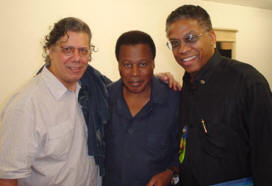 Following a week of rehearsals in Montreal, the group played both traditional and non-traditional venues in Europe, ranging from London's Barbican to century old piazzas and amphitheaters in Italy, France and Austria. A U.S. leg followed, primarily dates on both coasts, and along the way, they crossed paths with old friends like Wayne Shorter, Herbie Hancock and Stevie Wonder.
The owner and founder of MSS Audio, Woodland Hills, California, Hesse has been providing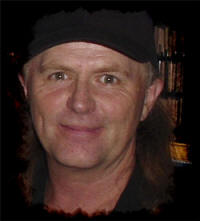 production and touring support in addition to audio services for the better part of his 30-plus year career.
Besides Corea, he's worked with Billy Sheehan, Steve Gadd, Mark Isham, Stanley Clark, Hancock, Shorter, Al Dimeola, Isaac Hayes, David Crosby and Trevor Rabin – to name a fraction of artists.
"My whole approach to how I got here was basically being a musician all my life and seeing how other musicians worked," he says.
Rehearsal week saw Weckl's originally planned (Yamaha) drum kit not reaching its destination, leaving Hesse and crew scrambling to pull together a suitable substitute kit. Rehearsals generally began early afternoon and sometimes lasted as late as midnight.
The 40-foot by 60-foot space, with 14-foot ceiling, proved a good fit in terms of environment and for working out technical details. "Our Lighting Director, Matt O'Donnell, put together an incredible light show on screens with projectors," says Hesse, adding that Solotech supplied a small Meyer Sound based rig for the sessions in addition to providing gear and support when CCEB returned for Montreal dates. 24 Live Sound International February 2005
SELF-CONTAINED ENTITY
Most backline needs were straightforward – Weckl uses Shure personal inear monitors and has learned to become a self-contained entity. All of his drum feeds, as well as those of the other musicians, route to his own Mackie compact mixer and then Yamaha O1V digital mixer, with a split of the feed also going to  FOH and monitor worlds.
It's the latest fix in the pursuit of a streamlined stage, suggested by (FOH Engineer) Kirsh. Previously, Hesse had deployed two Pro Co MS43A microphonesplitters and numerous cables to get the feeds around.
Weckl also carries his own mics, a collection of Shure Beta 52s for jimbe and both kicks, M98s for toms, SM81s for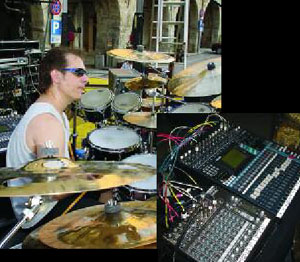 overhead and SM57's for miscellaneous percussion.
A four-pair Pro Co snake links guitarist Gambale to Weckl's mixer (electric and acoustic), while another ProCo custom snake supplies Corea's keyboard mix from his own O1V mixer to four Pro Co MS43A microphone rack-mount splitters and then it's on to Weckl's mixer.
"The snakes and splitters have become an invaluable part of our setup and it's been great having Pro Co helping us out on this," Hesse notes. Drum tech Kris Campbell could set up the kit and system in less than 90 minutes, and there were no adjustments needed with respect to power because the O1V's handle both 220-volt (Europe) and 110-volt (North America) service.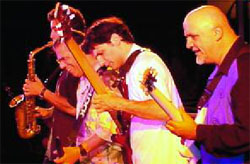 The group's goal of creating an even more self-contained monitor interconnect system and monitor rig may take them to multi-pin for the next iteration. "At this point in the game, we need to flesh the snake concept out a little more before deciding how better to refine it further," explains Hesse. "Streamlining interconnect systems on the road is kind of like going 200 miles an hour whiletrying to count the telephone poles whizzing by."
26 Live Sound InternationalFebruary 2005 Eric Marienthal focusing solely on the music thanks to a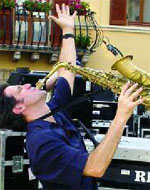 seamless stage setup centered on Pro Co components to get signal around. CCEB, melding out front with the jazz.
ONLY THREE LIKE IT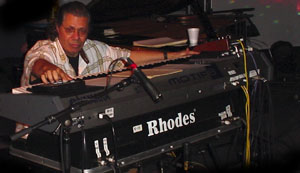 Corea's Fender Rhodes keyboard has been around "forever" – one of only three like it in the world. (The other two belong to Hancock and John Novello.) The keyboard is actually a MIDI Rhodes that Fender made years ago.
"It's an antique that will definitely end up in the Smithsonian someday," notes Hesse.
Meanwhile, Corea's acoustic grand piano is mic'd with an Applied Microphone Technology (AMT) M40 microphone as well as a pair of AKG 414s.
Capturing and amplifying the subtle nuances of this instrument is an ongoing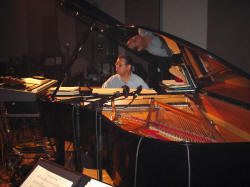 labor of love. Recently Kirsh recently began evaluating a Schertler Dyn-GP Electrodynamic Acoustic Transducer, which Hesse notes is "very warm sounding, duplicating what Bernie is looking for."
Kirsh currently runs 24 inputs out front, with Hesse overseeing the six onstage monitor mixes, including Corea's piano mix, his keyboard mix and downstage KX5  strap-on keyboard mix; a bass mix for bassist Ric Fierabracci (who took over  for Patitucci on the U.S. leg); a downstage right mix for saxophone; and a downstage left for guitarist Gambale. Stage volume is kept at "pleasant" levels to enhance the creative conversation among the musicians.
"One time, when Chick was playing in a trio with Miroslav Vitas and Roy Haynes, I watched the three of them have an uninterrupted musical conversation, and from that point forward, I realized that Chick's whole thing in life is not just playing, but communicating," Hesse offers.
STAYING ON TOP
For this tour, Kirsh elected to go without compressors at FOH. (The same goes for monitors.) He prefers to physically stay on top of the mix, manning the faders in a manner suggesting a conductor interfacing with an orchestra. For a group like CCEB that travels light, Kirsh had to do that on a different house system in each venue.
His main goal is trying to find consistent loudspeaker and console attributes across a wide line of products found at each stop. "I like Midas consoles, and although they come in many different configurations, the sound characteristics remain consistent," Kirsh adds.
"As for speakers, I like (LACOUSTICS) V-DOSC and various Meyer systems like the MSL4 and MILO," he adds, "but it all really depends on the venue. In Europe, we were able to get a quality sound in each venue, with the sound companies and crews helpful and knowledgeable."
A portion of the U.S. leg of the tour put Hesse on familiar West Coast ground, but working with an artist like Corea always means new adventures.
Navigating the streets of Beverly Hills, he secured a pair of Meyer UPJ1P loudspeakers, along with some UPA1Ps, for Corea to try out on stage at an upcoming gig. (These were ultimately supplied by Glenn Hatch at Audio West.) "Chick heard a Meyer loudspeaker in Budapest on the European leg and noted to me how he loved the sound and wanted to try a pair," Hesse.says. "He prefers 10- and 12-inch cones for a 'tighter' sound, and will occasionally check out new models and ideas.
However, he also still loves his (12-inch-loaded) Bag End Sapphires." At the Beverly Hills gig (Writers Of The Future Awards), the UPJ1P loudspeakers were placed on a road case behind Corea's Fender Rhodes, firing into his back like a stereo pair, they acted as piano and keyboard monitors.
For this performance and a following week of engagements at Catalina Bar and Grill in Hollywood, Hesse's company, MSS Audio, supplied the house PA. It included a recently purchased 56-channel Midas Verona console, four Meyer MSL4 loudspeakers and several Meyer UPAs for extreme left/right coverage as well as fill up the middle. Four Bag End TA-6000s filled the front, and two Bag End Quartz subs supplied the bottom end.
Today, many performers don't last long enough to become discerning artists who understand both technical and human communication in producing high art. Many experienced sound folks are likely to say the same thing, so it falls to teams like Corea, Hesse and Kirsh to serve as living examples.
"When you're dealing with art, you push the technical side as high as possible," Hesse finishes. "My job is to come up with workable solutions to make it simple and easy for the band to communicate with each other and most importantly, the audience."
E. Victor Brown is a veteran pro audio journalist whose work is published in several industry publications.
Reach him at evictb@sbcglobal.net.